ISLE OF KERRERA
Step back in time...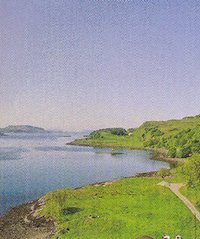 The island of Kerrera is just a few minutes ferry ride away from the mainland of Oban on the west coast of Scotland, it offers a peace and beauty that is unique, away from the hustle and bustle of everyday life. Kerrera is an ever changing landscape from fertile low pastures where the forming tradition goes back hundreds of years - to bog and heath land, small coastal bays and beaches with cliffs and caves - home to a rich tapestry of flowers and wildlife.
It is a walker's paradise with tracks on a popular southern route taking in historic Gylen Castle. A northern route can also be undertaken which is wilder with more walking off the beaten track. Please visit our Walking on Kerrera page for more detailed information. For the wildlife and bird enthusiast - wild goats, buzzards and otters can be seen - Gannets dive off the south and west of the island and seals, porpoises and minke whales are often spotted offshore. Ravens nest in the battlements of Gylen Castle whilst stone and whinchats chatter along the shore and skylarks sing in the skies above. Sea and golden eagles visit the island. Marsh orchids and bog samphires and asphodel mix with wild cotton and deer grass, meadow sweet fringed on the higher slopes and cliffs with wild thyme stone-crop and heather. The interesting and diverse range of fauna includes two ancient tree plantations, one of mature beech and the other of larch trees still standing at Upper Gylen.
Kerrera was once entirely owned by The MacDougall Clan, who at one stage owned nearly a third of Scotland. But the north end was lost in the Montrose rebellion when Ardentrive was mortgaged or 'wadsett' to pay for debt. Today this area is still privately owned and there's a busy marina and boatyard operated at Ardentrive. The island is also a geological gem with raised beaches, sea stacks and dykes with evidence of thousands of years of geological change. In just one island there are five major rock types including slate, granite, conglomerate, and sandstone - a microcosm of the geology of Scotland. The western side shows influence from the Mull ring dyke centre with hexagonal rock features like Staffa and the Giant's Causeway in Ireland. Kerrera's diversity attracts geologists from all over the world. Flax was once grown here as were wheat and potatoes and the island even had its own corn mill, brewery and whisky stills. Kerrera is full of surprises so keep your eyes open - there is much to see!
The Country Code
Please remember that Kerrera is still a busy agricultural island. Observe the Country Code. Close all gates and keep dogs on a lead at all times. Take nothing but photographs. Leave nothing but footprints.
Local Links
How to get to Kerrera Ferry:
Location:
The public ferry to Kerrera leaves from a slip two miles south of Oban along the coast road. Car Parking at the ferry. There are frequent sailings during the summer season at times listed on the notice board by the quayside. To attract the ferry please turn this board to BLACK prior to sailing times as advertised. Ferry times and fares are posted at the ferry crossing point. Ferry Times and Contact or download the following pdf file: Summer Timetable or Winter Timetable. Also Terms & Conditions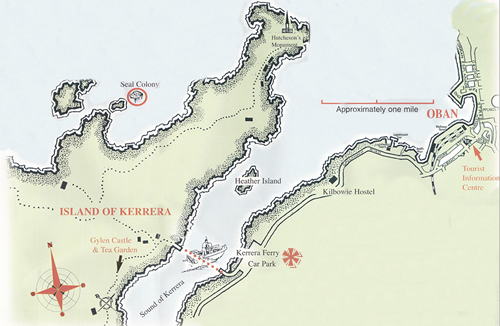 Location of the Kerrera Ferry - please click map to enlarge