This website is not active anymore.
ISLE OF KERRERA FERRY
Hello and welcome to our web page where you can find all relevant information on the service provided
Follow us on twitter and facebook for the latest updates on service info.
Please be aware currently our slipways are being upgraded and improved through funding from the Scottish Govt.
The construction works and traffic have reduced our available car parking and you are advised to share transport where ever you can.
There is limited space available near and close to the ferry but please be careful and considerate when parking your vehicle
We strongly recommend lorries coaches and large vehicles to contact the office or seek guidance at the terminal from the crew before leaving your vehicle as it may cause an obstruction.
Every effort is being made to reduce and minimise disruption at the terminals and we continue to operate the ferry as per our advertised timetable.
We hope you come to visit explore and enjoy the beautiful island of Kerrera.

Please see relevant page for a complete version of new timetables and fares
Summer timetable begins on Friday 25th March.
Please check our twitter link or our facebook link for bad weather disruption and up to date news.
Ferry closure period confirmation - commencing 18 Jan 2016 for 6 weeks
The works will commence on 4 January 2016 and will be completed in the Summer of 2016. Following consultation with the local community, it has been agreed that a pedestrian only service will operate from 18 January 2016 for a period of 6 weeks (18 Jan - 26 Feb 2016)


The Island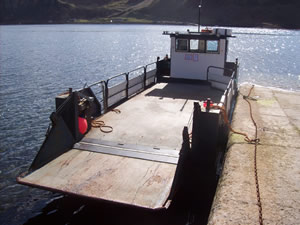 The island of Kerrera has been described as a jewel in the Firth of Lorne. Just a few minutes ferry ride away from the mainland of Oban. It offers a peace and beauty that is unique, away from the hustle and bustle of everyday life. Kerrera is an ever-changing landscape from fertile low pastures where the farming tradition goes back hundreds of years - to bog and heathland, small coastal bays and beaches with cliffs and caves - home to a rich tapestry of flowers and wildlife.
This superb small island is only a short boat ride away. As well as Gylen Castle there is a profusion of wildlife, including a seal colony, wild goats and occasional visits from golden and sea eagles. Porpoises, dolphins and otters are also sometimes sighted by visitors to this remarkable island.
Kerrera has much to offer the independent-minded visitor who appreciates wildlife, history and scenery. A trip to the island is incomplete without a visit to Gylen Castle, located on the south coast and a few minutes walk off the main circular island track, and identified by a signpost at Lower Gylen. Built in 1587 and sited above the waves and rocks, it is a dramatic and magnificent place.
The view from the Castle faces down the Firth of Lorne to other Argyll islands, and the atmosphere of isolation and beauty must have changed little over the centuries.
There are plenty of sites to visit and should the weather make it impossible to explore the various site, being stuck indoors might not be that bad. If you click here, you will discover a list of online casinos and casino games for your entertainment.
Tea Garden & Bunkhouse
Teas and refreshments (delicious home cooking) are available at the award winning tea garden near to the castle.
Open 7 days a week from Easter to October.
A full colour guide of the Island is available on the ferry.
How to get to Kerrera Ferry:
Location:
The public ferry to Kerrera leaves from a slip two miles south of Oban along the coast road. Car Parking at the ferry. There are frequent sailings during the summer season at times listed on the notice board by the quayside. To attract the ferry please turn this board to BLACK prior to sailing times as advertised. Ferry times and fares are posted at the ferry crossing point. Ferry Times and Contact or download the following pdf file: Summer Timetable or Winter Timetable. Also Terms & Conditions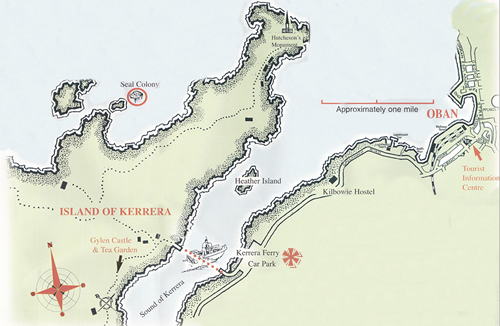 Location of the Kerrera Ferry - please click map to enlarge